Even after two months of intense preparation, former Liberty University student David Bell ('18) failed his first CPA practice test.
"I was devastated at this point," said Bell, who needed at least 75% of the Uniform Certified Public Accountant (CPA) exam to become a chartered accountant in the United States.
As a self-proclaimed gifted man, his failure on the first practice test turned his stomach upside down. Frustrated but determined to succeed, Bell postponed the first of his four-part CPA exam to give him more time to study.
"It was like another year of school," said Bell, 23, who devoted 10 hours a day for eight months to prep.
He first heard about CPA exams during a Liberty accounting class. The exams, divided into four distinct segments – Auditing and Attestation, Environment and Business Concepts, Financial Accounting and Reporting, and Regulatory – are the most difficult assessments for accountants, equivalent to the bar exam for aspiring lawyers.
While many accountants lead successful careers without becoming a CPA, Bell has learned that the degree could dramatically improve her accounting career development, job security, and overall job satisfaction. CPA license holders also earn 10-15% more income, and according to the National Association of State Accounting Boards, CPAs have more opportunities to travel the world and gain international business experience. .
"At first I thought I barely passed the first few exams," said Bell, who has worked with PricewaterhouseCoopers in New York for over a year. "There were definitely times when I was guessing about questions. But when I got my final grades, I almost fell off my chair.
Bell scored higher than expected – an average of 96.25% – making it eligible for the Elijah Watt Sells Award, a distinction that annually recognizes the best exam candidates who receive an average of 95.5% or more in all four categories. Of the nearly 75,000 people who took exams in 2019, Bell was one of 133 candidates to achieve this score.
"I am incredibly proud of David and his accomplishments," said Dr. Jamie Stowe, an accounting professor from Liberty who has taught many senior level accounting courses in the School of Business and served as an academic advisor to the student club. of the Accounting Society during Bell's tenure as club president. "I remember meeting David at the start of his undergraduate career, when he hadn't yet graduated in accounting, and being impressed by his go-getter attitude."
"Later I had the pleasure of teaching him intermediate accounting and I knew he was destined for a career in accounting," she added. "He quickly grasped the concepts and seemed to have a passion for accounting and financial reporting. I was so proud to be able to watch him grow and learn in the years that followed.
While at Liberty, Bell volunteered as an accounting tutor, which helped him stay on top of smaller and easily overlooked accounting concepts.
"It has been a pleasure to see David excel in his transition from Liberty University to a professional career in New York City, and to bring to bear the skills, values ​​and work ethic he has cultivated within the School of Business, "Stowe said.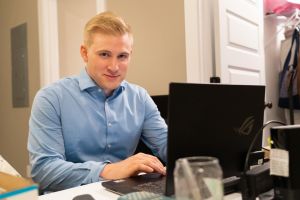 Bell graduated with a Bachelor of Science in Accounting in the fall of 2018. At PricewaterhouseCoopers he works as a financial statement auditor testing the financial statements of hedge funds and private real estate investment funds and has stated that he was delighted to be employed with a company that is expanding its capabilities as a young professional.
"My teachers at Liberty pushed me really hard," he said. "My education was fair, but it was also difficult. I had to reason, reflect and explain what I had learned. … Yes, we are accountants and we look at a lot of numbers, but we have to be able to tell people what those numbers mean. I think Liberty really prepared me for this.
"I am incredibly grateful to have teachers who believed in me and trained me to grow," he added. "I can't imagine that all schools across the country offer the same quality of mentoring. I think a lot of professors across the country are just taking a paycheck, or they're too preoccupied with their research not to have time to push the students. … This was not how Liberty operated, and I am grateful for it. I don't think I would have been near the same level of satisfaction in my career and growth if I hadn't attended Liberty. "